Health Social Network – healothers.com
A supportive social networking community for those seeking health and healing for themselves and others.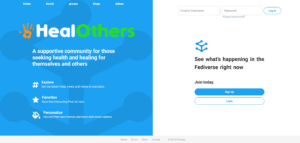 Heal Others is a stand alone instance meaning it is not connected to the rest of the Fediverse and has very strict Terms of Service in that they do not allow any nudity, sexually explicit materials, racial epitaphs, major cuss words or even bullying or malicious postings at all because we seek to maintain a community of health and healing for those who are struggling with health challenges.
but it is connected to the rest of the Fediverse where those types of content exist in plenty.  Through the powerful Fediway software users have the option to block or must, users or even whole instances if they so chose so everyone can customize their own community.
Help us make the internet a healthy place.  Please donate to Hope Holdings today.
Donate Now
We depend on donations to carry out our mission of building Human Friendly technology that empowers and protects humanity.