Free Speech Social Network – fediway.com
FEDIWAY.com is the flag ship social networking community for the Fediway Project.  Fediway will be connected to all instances in the Fediverse that are willing to federate with us.
Fediway has a very lose Terms of Service and allows all legal speech within the US minus the nudity and porn.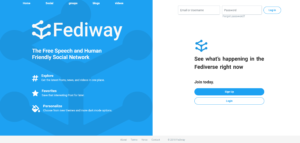 Help us make the internet free and open for all.  Please donate to Hope Holdings today.
Donate Now
We depend on donations to carry out our mission of building Human Friendly technology that empowers and protects humanity.